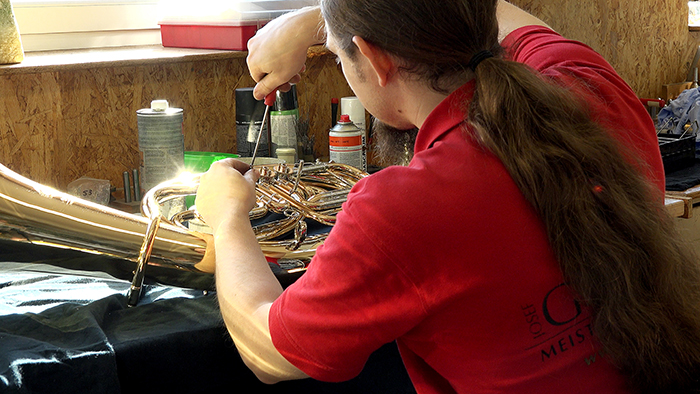 In addition to our range of new instruments, we offer our customers a comprehensive repair service. We overhaul all metalwind instruments from the Hoch B trumpet to the Helikon. We only use original parts or reproduce them to preserve the sound quality and character of your instrument.
We also devote great attention to woodwind instruments. From the adjustment of the mechanics to the general overhaul.
Everything in your own workshop.
General overhaul
Disassemble and remove varnish
Desoldering and replacement of all corroded parts
Bulging and rubbing out of the entire instrument
Sanding, polishing and soldering together
High-gloss polishing
varnishing or electroplating
Mount and adjust
Technical overhaul
Disassemble the instrument
Cleaning in special bath and ultrasound
Precise grinding and retraction of the valves
Elimination of play of all moving parts
Replace corks, silicones and springs
Mount and adjust
Tuning, special Design

Sound analysis and tune corrections
Creating triggers
Modification of instruments for people with physical handicaps (left-handed, adjust key unit, etc.)
Sound optimization through different sounds, mouth tubes and vocal folds